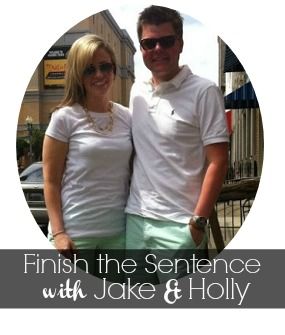 It's officially Friday and I am done with work for the week, so it's basically time for some shenanigans. And what better way to start then by joining in on Finish the Sentence with Jake and Holly! 😀 Followed by an immediate Carlton style happy dance of course.
1. I always pick wine over water. Hey, even Jesus turned water into wine. Now, that's a trick I need to get in on!
2. Look at the size of those jugs! Seriously, those wine jugs are huge! Just the way I like 'em.
3. I recently learned  that I may have a drinking problem. (See #1 and #2 above.)
4. Only when no one is looking do I re-enact the dance from Dirty Dancing. Nobody puts baby in a corner!
5. I lost my mojo. How did Stella get her groove back? More alcohol you say?
6. I was certain I'd be a world renowned traveler by now. How the hell does Carmen Sandiego do it? Who exactly is funding all of her travels?
7. There is not enough liquor in the world for me to drink. Annnnd we're back to the drinking problem.
8. I just finished signing up for AA. Just kidding. I'm not a quitter!
9. Why does everyone have to be all up in my grill. Okay, I'm a blogger, so obviously I really just like the attention and want more.
10. It's very rare when I have a birthday that goes according to plan. I have a birthday curse.
11. If I were a dog, I'd be the laziest bitch ever! So basically, it would be just like any other day.
12. I don't believe diamonds are forever. So let's hock that thing at a pawn shop and hunt down Carmen Sandiego!
And now for my weekend happy dance! Have a great weekend!