This is my favorite kind of link up – Finish the Sentence. Basically, the blog is already formatted for you and you just have to fill in the blanks. That's half the work right there! Total win! Plus, I should really be packing since I move tomorrow, but instead I'm blogging. Guess, I just revealed my other secret. My name is Lynsey and I am a procrastinator.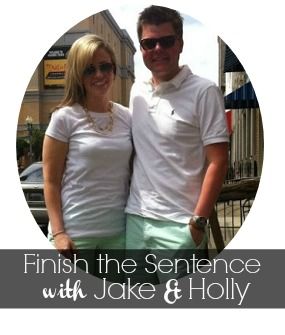 1. My favorite Christmas was
the year I spent Christmas in London. I had just finished my semester abroad and stuck around the city a while longer to play tour guide for my mom and cousin. The sidewalks were a regular slip and slide ready to make a fool of you if you just looked at them the wrong way. And we slept single file in a room so narrow I could almost touch both walls when I was standing in the center. Even so, I love Christmas in the city with all the lights, festivities, and cheer.

2. The worst Christmas I had was 2 years ago when I spent the holiday alone. I was in a new city and Troy had abandoned me gone home for the holidays. I spent the day in my pajamas, stuffing my face, and binge watching Gossip Girl with the dogs. Keesah is so Team Blair.
3. That one gift that made me scratch my head and say, "Hmmmm" was black printer ink. I was just so perplexed by the box of ink staring at me on Christmas morning. Maybe Santa has been modernizing his workshop and black printer ink is the new black coal. You'd think he'd send out a memo or something.
4. One year I walked into the living room Christmas morning to find our gifts covered in one dollar bills. My sister and I must have been really good that year because there was $100 for each of us. Santa knows what I like (sometimes).
5. I think the worst gift to give is black printer ink. I kid. But not really. I suppose if someone has made it to your naughty list (and not in a nice way), then bust out the office supplies! 'You lied to me last month. Here have a stapler. Merry Christmas, ya filthy animal!'
6. At Christmastime I typically stuff my face. Sing Christmas carols in a key completely unrecognizable to anyone, except dogs. And turn laziness into an art form. You would too after stuffing your face to the point of a food coma.
7. Typically, family Christmas rivals that of the Griswald's from the movie National Lampoon's Christmas Vacation. We do pretty well not to electrocute any cats or start any fires (so far), but my mom really loves her Christmas decorations. Growing up there was no shortage of lights, musical decorations, Christmas trees (with enough ornaments to fill 3), and presents. My mom is a regular Kris Kringle!
8. If I could change one thing about the Holiday season it would be the gift giving. I mean, do you really need more crap to fill your home with? Isn't it hard enough to navigate through your mountain of electronics and shoes without adding to the pile? Holidays should be about time spent with family and less about the loot. But if you insist on adding to my loot I will gladly accept.
9. It is so hard to buy for my brother in-law. I never know what to get the man who has everything he wants. He doesn't do fancy gadgets or electronics (total win for me). And my sister pretty much coupons and bargain shops for whatever they want or need. (She may have a shopping problem, but at least it's discount shopping!) So what's left? Black printer ink?
10. My favorite Christmas tradition is stuffing my face. I thought I made that clear. Seriously, I love my Christmas food, but I also just really enjoy sitting around the table with my family. We can't stand see each other that often, so it's nice to get everyone together in one spot to do what we do best – tease each other and eat.
11. Santa, baby, bring me an all expenses paid trip to Europe! I mean all the cool kids are getting trips to Europe and there's no danger of me shooting my eye out. I promise I'll be good (insert cheesy grin).
Merry Christmas, ya filthy animals!